CONGRUITY Makes It Home With the Generous Help of Racing Industry Connections
On February 9, 2021, Donna Wakefield, a long-time racing fan and stakeholder, contacted CTA about placing a horse on our watchlist. Donna had developed a connection with a young horse named Congruity when he had his first Maiden race at Saratoga in 2017, where he came in 3rd.
She was impressed with the good-looking 2-year-old and followed his entire career. In January of 2021, Donna found out that Congruity had been sold to an owner in Puerto Rico, and would continue his career at Camarero Racetrack. Donna was heartbroken, as she'd hoped she could adopt him once he was ready for retirement.
Donna continued to follow Congruity and tuned in for every one of his races. He had varied results, but his performance seemed to be steadily declining. After changing owners a few times during his time at Camarero, where he raced 12 times. In his last race, he finished 9th. His owner at the time, Skull Stables, realized he wasn't enjoying his job anymore, when Iris, (owner, of Skull Racing) learned that he had an offer for a forever home waiting in New York - she didn't hesitate to retire Congruity and donate him to Donna.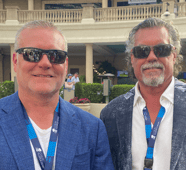 Donna was beyond excited about this news, and now she was ready for the next hurdle; covering the cost of airfare and quarantine to get Congruity to New York (about $3,500). Donna got right to work on setting up a fundraiser, but donations were slow to come through, and time was running out to get Congruity into an upcoming quarantine.
The CTA team shared Donna's story across social media in hopes of getting more donations - when C2 Racing Stables (owners of KY Derby hopeful and fan favorite, White Abarrio) came through with a hail mary pass - and generously donated $3,000 to help reach the goal!

We were surprised to learn that C2 Racing Stables was not a past connection of Congruity, and were just "Paying it forward." For readers that follow C2 Racing Stables on Twitter, this will come as no surprise as they regularly make surprise donations to help horses in need.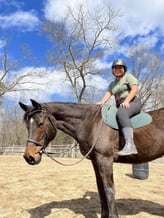 We're happy to report that Congruity, now being called "Miracle" is safe and sound in his new home with Donna and her other OTTBs in New York, enjoying the good life!
When our industry comes together for the greater good of the horses, GREAT THINGS HAPPEN! We are in fact stronger together. We hope that C2 Racing Stables's random act of kindness inspires others in our industry to follow suit...and if you're looking for a team to root for - you found them!
Many thanks to ALL of the people who helped make this happen; especially Skull Stables, C2 Racing Stables, and Donna Wakefield. #Strongertogether